Ye Olde English Inn
It was William's birthday, but we didn't know it when we planned an outing to Ye Olde English Inn for tea in Hollister. (The Inn dates from the early 20th century, but is built in the Old English style--very charming!)
Studying was our pretext for going. In reality, we did little homework; the opportunity for lively discussion among friends proved far more interesting. And since it was William's birthday, and since he had never taken tea, it was only fitting we gave him an authentic tea experience.
We gathered around a table at the back of the dining room, near the kitchen.Then, from the nearby teacart, we selected our tea: Scottish Breakfast and Earl Grey. We each chose a cup reflective of our mood. Mine, chunky and brown, coordinated with my brown and turquoise scarf. The men chose classic porcelain cups. Mallory and I ordered toast: thick slices with wheatberries, well-buttered, and slathered with strawberry jam. Our waitress brought of pots of hot water, and after the tea had steeped, Joshua demonstrated the way to make a proper cup, adding milk and sugar. Our waitress was horrified, as if hot tea were itself bad enough; the thought of taking tea with milk was loathsome to her! William was a good sport, even attempting a British accent and more refined manners for the occasion.
Alas! There are no pictures from our tea. We chose the quiet shadows of the back corner over the sunny bustle of the front of the restaurant. Use your imagination!
After tea, we removed to the front of the dining room, where the men engaged in a hurried game of chess. Mallory and I attempted to read, but to little avail with such a lively game to watch!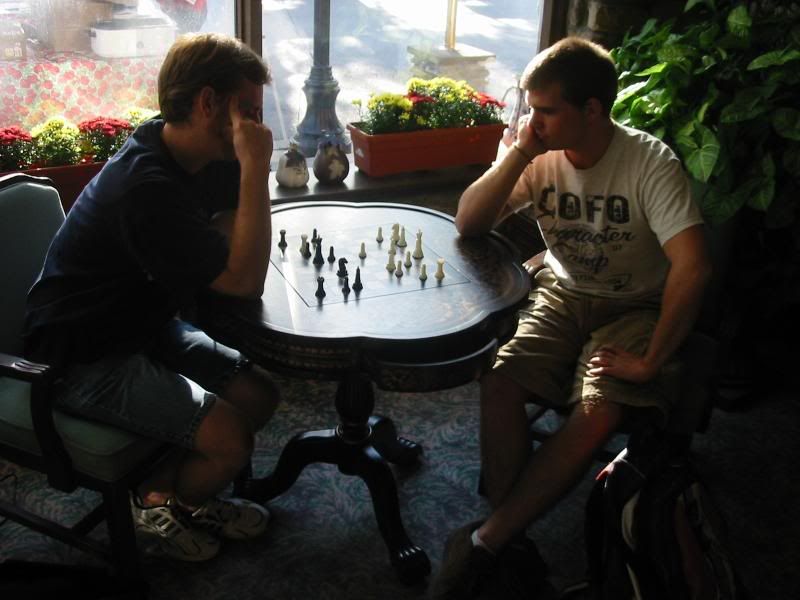 Joshua and William at the Chess Table