Riding the Rails
In May, the weekend before finals, some friends and I shelved our studies for adventure on the Branson Scenic Railway.
This handsome machine leads the way, twenty miles south of Branson, through woods and hills, and over bridges, into Arkansas.
Joshua and Krystallin
There are many perks to being a student at C of O, discount tickets at area attractions being one of them! Here we paid $6 for $25 tickets!

Grant is revisiting Swallows and Amazons by Arthur Ransome, a favorite childhood book--series, actually--set in the Lake District of England. Today, Joshua is a British chap disguised as a French tourist. I'm hoping to do some writing, but I will probably find my company too distracting. ;-)

Joshua and Grant
Twinings
Joshua brought Twinings, and good thing. The restaurant served Lipton's, which real connoisseurs realize will never do. In spite of the railway's policy forbidding passengers from bringing their own food aboard, we were permitted to make our own tea. Thanks to Joshua's affected British accent, we even obtained creamer and sugar with our free hot water. If we'd only thought to bring milk. Creamer is sacrilege!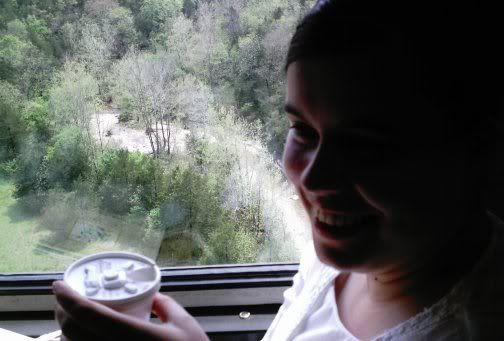 Tea with a View
I enjoy the pleasures of a good cuppa, styrofoam-style. The view from the bridge was rather exhilirating!